PaliProto 3D (The Company) provides 3D printing, 3D Design, Reverse Engineering, Scanning, and Educational Services in addition to being a premier representative and VAR for three top tier 3D printing manufacturers – EnvisionTEC, Rize3D and Zortrax. Our goal is to become the premier provider of printers and services in the South East region. This region has been historically underserved and represents a large opportunity in the K through 12 education markets, the post-secondary and university education markets, and the corporate and manufacturing markets.
2020 was a trial by fire year for 3D printing and 3D services. While few could predict a pandemic devastating and upending the economy last year, 3D printing technology has proven its worth and strength. 2021 is now posed to be a year of explosive growth, in many segments. Despite this potential the reality is that 45% of our sales in the years 2017 through 2019 were to the Education Market. In March 2020 almost 98% of the Public schools were shut down and many remain closed or continue to have struggles in operations. Suddenly in March and April 2021 all our scheduled 3D Technology conferences, demonstrations, and workshops were cancelled, and the situation only got worse from there. Since than the education sector has provided little growth income beyond our contracted service and repair activities.
Fortunately, in Q4 2020 and Q1 2021 we tapped into new and continued to nurture existing customers – customers who are moving part of or even entire production runs from offshore and back to the USA. To meet these new and sudden capacity demands, we increased our capability by an additional twelve FDM 3D printers funded by the personal savings of the owner.
In 2021 and beyond we are looking for funding partners and investors so that it may continue to meet our increased delivery demand and customer needs, at scale.
These partner stakeholders would sponsor our restructuring and the acquisition of new equipment such as Industrial printers and a 3D scanner for precision reverse engineering applications, metrology applications, and to fund the scale-up in both processes and skilled employees.
Products and Target Markets
The Company began in 2015 with a plan to be the dominant player in the regional education market and to be a "go to" company in the corporate arena. Over time we have seen an increase demand in parts manufacturing from customers moving production back to local regions in the USA. Using a multi-faceted strategy, we built out our products, materials, and service offerings to meet these demands. By 2019 we become a solid player in the Education and Corporate verticals and a valuable resource for local manufacturers.
The Company offers a variety of printers from established manufacturers including Zortrax, EnvisionTEC, Rize3D, Air Wolf, and innovative education players such as Skriware and Afinia. This wide portfolio of manufacturers allows us to offer a blend of entry-level machines and full production industrial printers. We have key products and services available for EVERY MARKET and EVERY INDUSTRY. PaliProto 3D is far from ordinary. The Company works closely with clients and project stakeholders. We have found that inventors, architects, manufacturers, educators, designers, project managers, engineers, and top executives etc. all have their unique needs, concerns, and expectations when they come to us.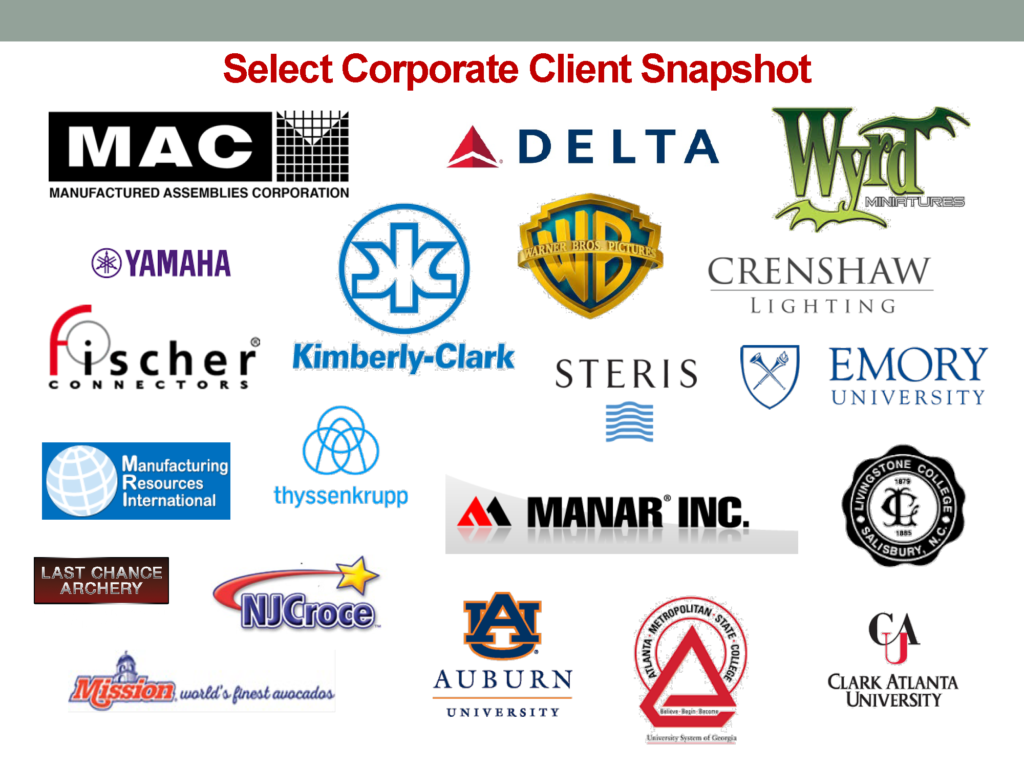 A peek into our exciting client base shows such diverse and wide ranging companies as:
Manufactured Assemblies Corporation (MAC), Delta Airlines, Wyrd Games, multiple Medical Research and Medical Device Companies, Kimberly-Clark, ThyssenKrupp, Emory University, Auburn University, Livingstone College, Clark Atlanta University, Warner Brothers Marketing, Georgia's premier ART Studio, Georgia Department of Natural Resources, and several prop makers, set designers, and entertainment industry production houses….
…and many more!
Fascinating applications have made their way through our shop including product designs, custom jigs, complex fixtures, scaled architecture models and concepts, live action film props, doll parts, drone and aviation components, automotive restauration parts, molds, reverse engineering of antiques and old machinery, sculptural mockups, medical guides, and gallery components for nationally renowned artists, as well as countless everyday production parts.
Except in the realm of metal fabrication (in a hands-on capacity), we have had extensive experience through our five-year tenure. These experiences have increased the owner's belief that we need to bring manufacturing back to USA and to strive to replace as many foreign made components with American made. To do this, education is also a critical part of the equation. Localized on demand manufacturing is a resilient multifaceted solution to countless global bottlenecks, transport delays, changing political conditions, weather chaos and more.
Future 2021 to 2024
In the next 3 years, PaliProto will be producing 3D printed metal parts as well as supplying our industrial customers with "In Time – On Demand" parts via our digital catalogues. Once pandemic protocols have been lessened, we aim to provide 3D training and robotic ecosystems to up to 50% schools in GA, AL, TN, SC & NC with a focus on private, charter and independent schools. We also plan to be a major player in the automobile and other antique restoration businesses where 3D scanning and 3D printing is the most efficient way of acquiring missing parts that are no longer available otherwise.
After due diligence of the consumer orientated 3D printing markets, we have identified several creative avenues for crowd sourced or individual income streams. Some of these included ongoing discussions and negotiations regarding historical preservation projects, maker spaces, ancestry projects, and fine art projects.
On the industry side of operations, we expect that 3D technologies will increasingly modernize the US Manufacturing sector and enhance our global competitiveness. The 3D industry projections for the US market are incredibly positive, it is one of the few manufacturing areas experiencing explosive growth and is expected to keep on this trend.
A report by Acumen Research and Consulting estimated that the 3D Printing Market will surpass $41 billion by 2026, representing an average annual growth rate of close to 20% percent from 2019 to 2026. The market is expected to grow at a CAGR of 18%-20% during 2019–2026. This exceeded 2019 prediction 27% CAGR growth and we took advantage of this with tangible profits in 2019.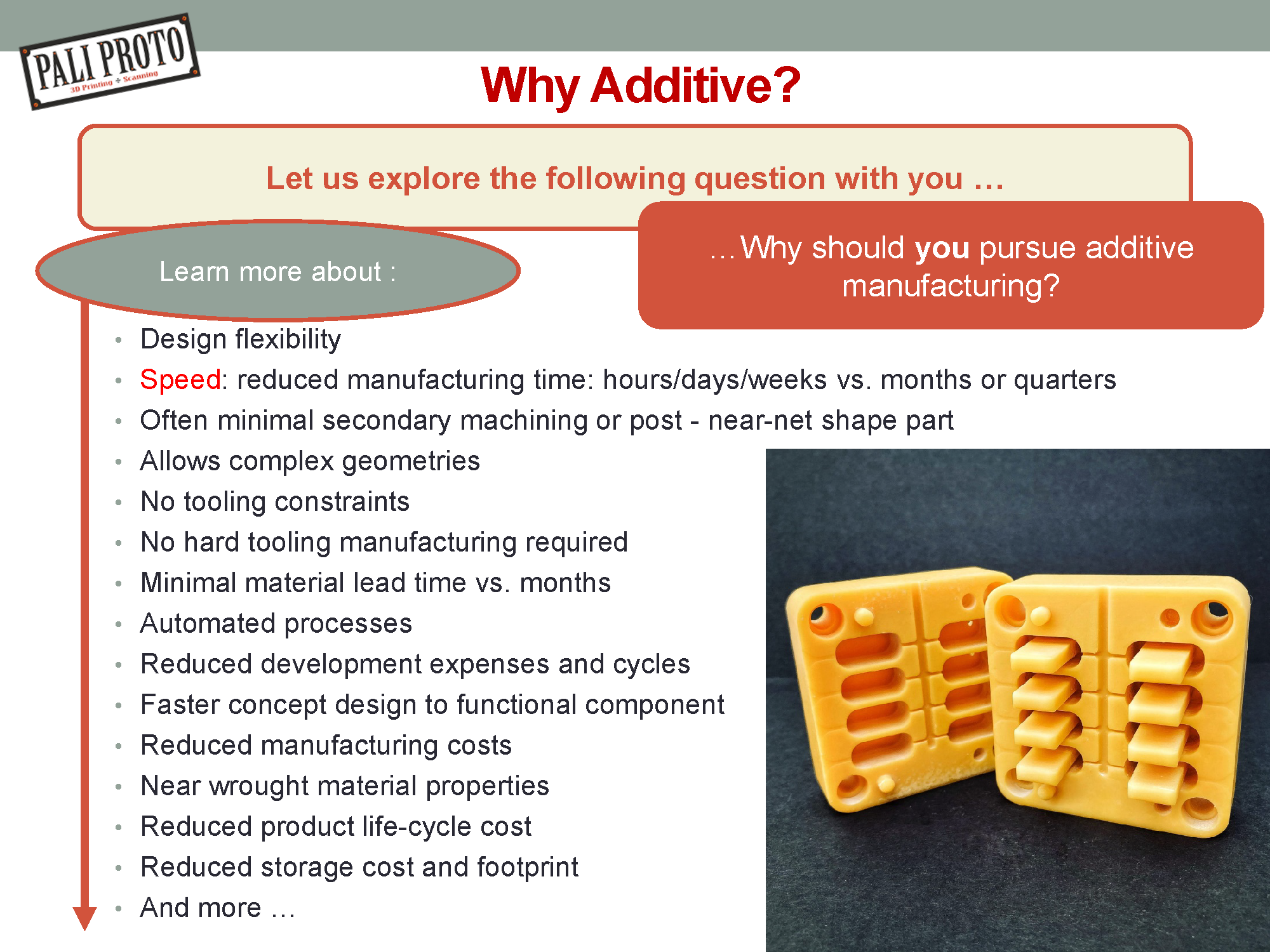 Even more powerful, it is predicted that over 25% of R&D will be done using additive prototyping and, in some industries, (automotive, aircraft, military) this is expected to reach close to 80%. These numbers and solid expectations are the basis for our being in the market and having an ability to grow year-over-year.
PaliProto has defined 16 Key Milestones and Deliverables for 2021 through 2023.
These are now available to potential funding partners and investors
Regarding competition, many companies and individuals have attempted to enter the 3D market over the years. They have quickly found that success is not guaranteed by being in an explosive market, having funds, or having access to leading edge printers or tech. One of the risks is that this technology and ecosystem changes quickly and manufacturers are increasingly providing high end tools directly to consumers and prosumers. Success and distinction in this market is about passion, creativity, knowledge, understanding, and expertise. Success is about knowing what your customer wants and how to deliver it in a Value-Added Pipeline.
The competition that now survives in the local market has niche technology and areas of service and are good at what they do, thus our distinction must come from continued specialization, clearly identifying our customer needs, and providing outstanding customer service in our key value stream markets. These markets are education, manufacturing parts production, large scale art reproduction, and fixtures/guides for medical and diagnostic companies.
One of the challenges to local based service providers is the presence of quick access online global service providers for 3D printing. While automated quoting software can provide an edge, we meet this challenge by implementing our own automated workflows and pipelines while still providing what the large players simply cannot provide, an excelled one on one customer service experience and nurtured relationships through the entire pipeline. We strive to provide quality over quantity while meeting the small run and complex manufacturing needs of our clients.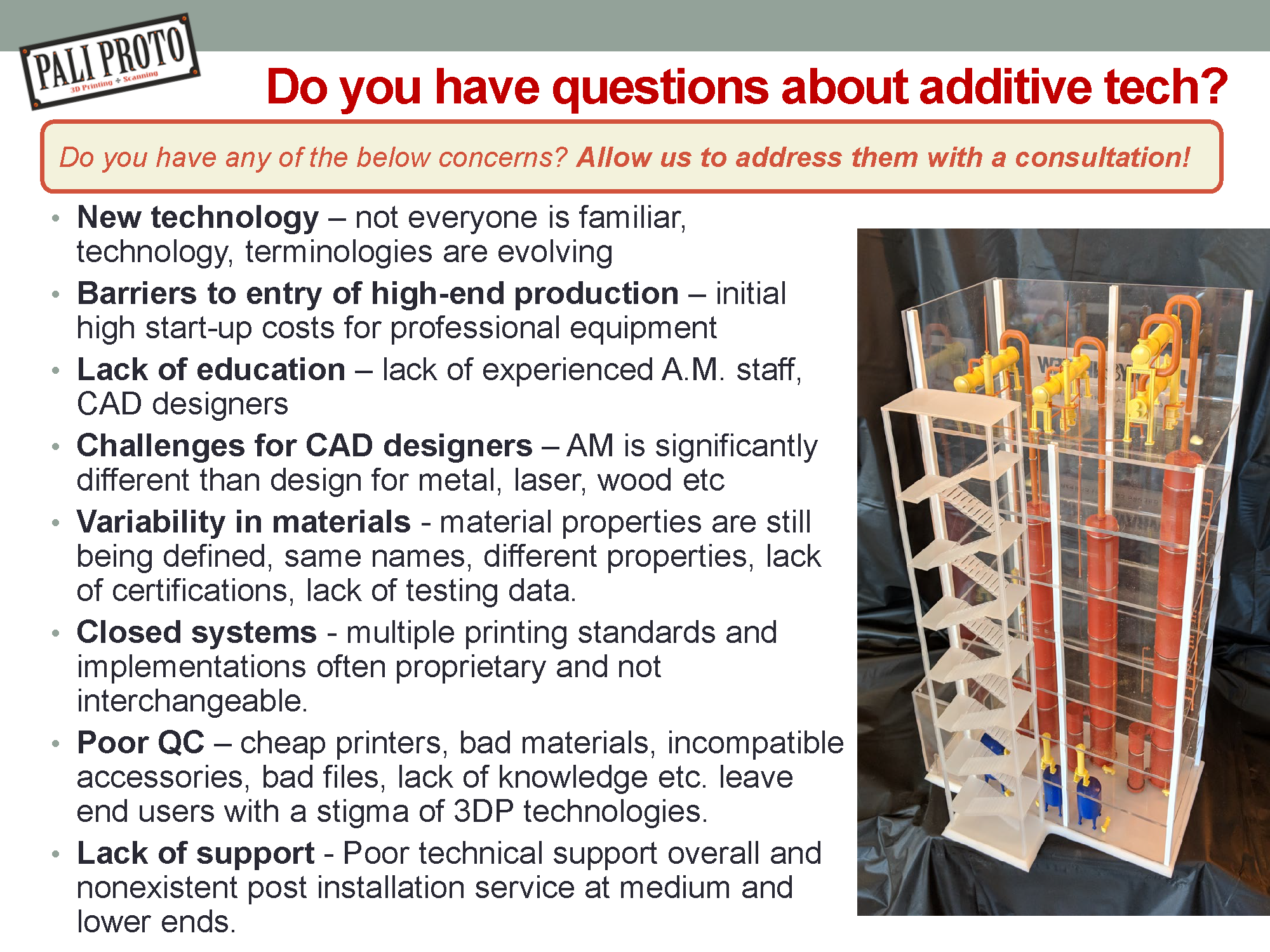 Another continued challenge to market adoption and growth of 3D printing and 3D scanning has been the set expectations of low quality, frustrating complexity, and the industry seen through a lens of jaded disillusionment and misinformation. While we believe that 2020 has proven our industries chops, the lingering effects of stigma still exists due to years of poor industry wide sales practices, cheap printers, cheap materials, lack of manufacturer support, lack of consumer education, vendors promising the moon, cut-rate prices, and poor-quality control practices on printers, printer components, and feedstock/materials.
Continued lack of education and understanding of the technologies, processes, and CAD knowledge required for successful 3D printed results is a challenge to the industry and a financial risk to 3D printer manufacturers themselves. With the use of funds, we will educate, inform, and communicate with our stakeholders and market daily. We do not believe our competition comes from new players trying to enter the market but from the lack of knowledge of additive manufacturing or how, when used appropriately, 3D printing and 3D scanning can solve many problems and provide new opportunities.
Sales Strategy
Each manufacturer looks deeply into accompany that auditions to become a representative of their products. PaliProto has repeatedly exceeded manufacturer's requirements with our technical center of excellence, trained and experienced personnel, and a drive to succeed in the additive manufacturing markets. Another unique offering from the Company is on-site training, installation, and a tailored education program that serves General Novices as well as Power Users with custom software and process / workflow needs. Our community services and outreach are also a marquis spotlight for the Company.
With the nurturing of current corporate clients, customers and leads we have a path to growth that we expect will far exceed our goals based on current production and relationships. Many of our current customer relationships represent leaders in manufacturing, design, and production and many are repeat customers. We are also increasing our dominant contributions in the education market with private and public institutions from K to 12 and several universities. By providing one-on-one consultation and leadership with all our education customers we have become their "go to" for knowledge, training, products, and services.
Our technically proficient sales team and field engineers make all the difference to our clients and our product and materials line afford us a full spectrum of solutions for all price points and industries. From the inventor to the designer, to the shop manager and all the way to the top including the finance team and the entire executive team, we know how to make a difference.
In addition, we are, very uniquely positioned. While we are a VAR for several vendors, our R&D and solution analysis for our customers is vendor agnostic. What we strive for is to identify how they can best use and implement 3D technologies and solutions. Our goal is to educate and support our customers desire to modify their production flow to add 3D technology and workflows. We worked with a major local airline to help them establish 3D workflows in the manufacturing of traditional parts and jigs for internal production operations.
Financial Projections and Use of Funds
Detailed financials, P&L, itemized projects, member interest apportionment are available to potential funding partners and investors
Regardless of the current economic situation forced on us all by COVID-19, the Company anticipates that with proper funding we can keep on the path of continuous improvements and reenergized growth, using our defined customer base as leverage. However, we need to restructure to meet growth in manufacturing and industrial segments and we need to revise marketing costs as new events, expanded marketing presence and a COVID reality adjustment will be needed. Based on the experience of the Company's founders and other representatives thus far, a fully immersed and 3D technologies educated sales representative should be able to generate healthy compensation.
All funds heretofore invested into the Company will be used to fund the Company's operation and expansion. As our growth is exponential and exceeded projections year over year until 2020, the Company needs to implement robust processes, policies, rules and organize operation and marketing to support further growth in 2021 – 2023. The primary initial use of funds will be allocated to meet and exceed the described milestones, as follows:
• To acquire state of the art metal printer from Desktop Metal.
• Spin off and expand 3D scanning facilities and tools to service a wider array of projects.
• Invest in staff (hire one Office/Facilities Manager, one additional 3D Designer/Engineer and one dedicated sales representative.
• Pay off the Company's 3D printer equipment leases of approximately $130,000.00.
• Service other company debt.
• Rework company website and marketing materials to increase market presence through events and digital marketing campaigns in South East and Continental USA and Canada.
• Subject to retaining a reasonable cushion of reserves for contingencies any remaining funds will be dedicated to growing and training the Company's sales force, and its customer service and administrative personnel.
To put this request into perspective, Stanislaw Sliwinski (Founder/Manager) invested around 80% of startup costs through his own funds in the initial stages of growth and to outfit and build the existing facilities, printer park and software base as a foundation for future growth. Currently the Company has 40 plus diverse 3D Printers ranging from FDM to highly detailed SLA/DLP. The Company owns majority of the printers and 3 printers are currently on 60 months (5 years) leases.
COMPANY MANAGEMENT
Mr. Sliwinski, Owner, serves as Chief Executive Officer and has served as Chief Operational Officer. He conducts operational oversight, marketing activities, public relations activities as well as was liaison to Education, Manufacturing, Art, and Entertainment industries. Mr. Sliwinski has a career spanning 41 years in Technology, Operations, Solutions across Europe, Australia, Japan, and the Americas. Mr. Sliwinski spent 25 years working on high visibility, hard deadline events such as the Winter Games, Summer Olympiads, and Different International Championships. He spent 8 years working with Community Banks, 4 years with Medical Devices Company and 5 years in Travel Industry as Chief Architect. Mr. Sliwinski has equivalent of a US bachelor's degree in Geology. Mr. Sliwinski founded PaliProto 3D Printing in 2014, after retiring from Travelport.

Mrs. Barbara Sliwinski serves as Secretary of the company and has direct oversight of accounting, purchasing, digital communication, and overall events planning. Barbara has over 20 years' experience in Education fields, data management, and English to Polish / Polish to English translation and testing. She has a Post-Graduation degree in Mathematics.

Ms. Izabela Sliwinski serves as Communications Manager. Channels include the website, day to day client communications, social media, marketing communications, trade show organization and local community outreach activities. Izabela has over 15 years of working experience in visual communications as well as problem solving as an Intranet Business Analyst. She holds a B.F.A in Photography. Currently she serves as Interim Operations Manager.